Pierre Caillet is a film composer from France who has been getting a lot of attention recently for his homemade Nuances midi controller. This simple device is perfect for adding expression to virtual instruments, especially strings. I had a chance to speak with Pierre about his midi controller and his music. He also gave some great advice for us DIY Film Composers.
---
Nuances: The Midi Controller Everyone Wants
Pierre recently opened up pre-orders for the Nuances midi controller on his website. It sold out in less than an hour. Afterwards, he had people emailing him, offering to pay double the list price just to get their hands on one. Why? What makes this device so great?
The short answer is: it's everything you want in an expression controller, and nothing you don't. There are three large faders, a small oled display, a button to change midi channels, and a USB port in a nice wooden box. That's it. No extraneous knobs, pads, buttons, settings, etc.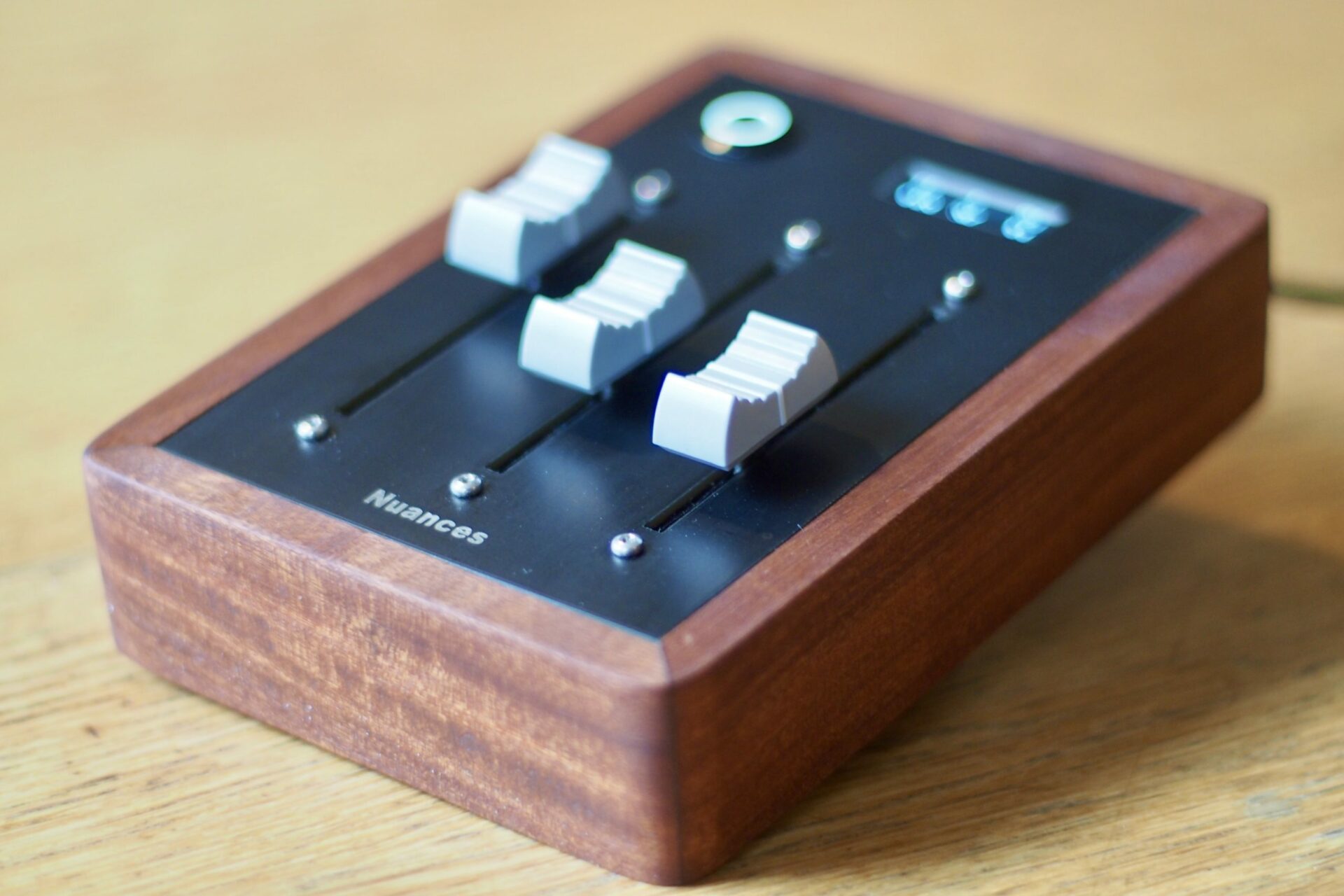 When working with a virtual instrument plugin, you can use these faders for dynamics, expression, and vibrato (or any parameter you like). With orchestral libraries, it's perfect. As we've posted about before, there are many ways of adding a human touch to your programmed music. With Nuances, you can record a melody with your right hand on a keyboard, and add that essential expression with the left.
To date, there are no other midi controllers I've seen that are purpose-built for orchestral programming. Nuances is made by a composer for composers. No plugins or drivers needed.
"I was looking for something like this [midi device] for a long time, but nobody was doing this for a reasonable price. Or it was too big, or too small."
---
The Hype Is Real
So, how did it become so in-demand? Well, I found out about Nuances – and Pierre – the same way many other people did. Christian Henson at Spitfire Audio posted a video entitled "The Ultimate Orchestral Expression Controller???" He spends 10 minutes or so examining the Monogram controller, then says, "Oh, by the way, there's also THIS!" and whips out Nuances. He basically says it works great, feels great, and does everything he needs. That video has 80,000 views, and Pierre's pre-orders skyrocketed.
"I was surprised when I saw the video on [Christian Henson's] website. I had told him I won't probably sell this because this is a lot of work. But within 24 hours, I had received about 500 emails from people asking, 'Where is it? Where can I buy it?!'
Check out the video below (Nuances review starts at 11 minutes):
---
The Build
When talking to Pierre, he made it pretty clear that he is a composer first and foremost, and he made this controller to meet his own needs. He is no stranger to DIY – he built the workstation in his studio, completely disassembled and reassembled his favorite keyboard in a new housing, and even built his own modular synths from scratch.
"At first, I made it for me, because I used to work with an iPad. But the problem with this is that it's a screen, so if you don't look at the screen and you move your finger on it, from time to time your fingers are leaving the faders. So you are recording something, and suddenly nothing works!"
For Nuances, he started with an Arduino board, some physical faders, and some basic programming. After a couple iterations, he landed on the final design. He still builds the devices at his kitchen table, and finishes the wood at his parent's place in the south of France. He tests them all himself and ships them out around the world. Truly, a DIY film composer!
One of my favorite touches are the quotes on the back of the PCB – and you'll never see them unless you take it apart. It features quotes from famous composers, including Brahms, Stravinsky, Bartok, Mahler, and Satie.
He never had any plans to sell the Nuances controller commercially. As it stands, he is releasing them in small batches that he can handle while also meeting commitments with his normal projects.
Click here to sign up for updates about future orders.
---
The Composer
Pierre Caillet has a long list of composing credits, and writes some beautiful music. Everything from commercials to short films to features, his work covers the whole spectrum. He was formally trained as a composer and found that he loved putting music against picture pretty early on.
He prefers composing for films because of the explicit story and structure. This acts as a creative constraint, and gives him a foundation to build his music on. These days he is writing music for a lot of commercials as well as short animated films, which is a niche he loves.
"When you're working as a composer in animated short movies, this is not the same budget as a [live-action] film. These films are done over several years with a director, producer, many animators working for six months or a year- so there is a real production budget to do [the music].
Check out his Soundcloud here:
---
Throw Out The Programming
A lot of Pierre's music is written for small ensembles, and that's no accident. When asked what his dream film composing project would be, he said, "A film with a lot of space for intimate music, chamber music. And a great story, of course. I won't score a blockbuster – that's not my thing."
A benefit of writing in this style is the ability to record live musicians for the final score. When you don't need to hire a massive orchestra, you can afford to get professional players, even on smaller budgets.
"I'm using controllers with my music, but it's mainly for mock-ups. I'm recording with real musicians every time. I think that's the main thing as a composer, just to have musicians play my music. This is really the thing I like the most."
Writing this way almost requires him to use real musicians. It's one thing to use a plugin of a giant orchestra with dozens of players blended together – it's much more difficult to make solo strings or a string quartet sound "real" with plugins and midi controllers. The limitations of virtual instruments and the "flatness" of sample libraries are immediately apparent when there are just a handful of individual voices. Pierre thinks no matter how much effort you put into expression and dynamics programming, it just "will never work." It needs the human touch to truly be expressive and sound organic.
"It's so much easier to write notes on the paper, find the [musician] who has worked 10 or 20 years [on their instrument] to play your music. And it will be better than you!"
For a composer who spends a lot of time and energy on making the perfect midi controller, he throws all of his expression programming out the window for the final score!
"I worked with a big orchestra for a feature film last January, and the mock-up was great! I used a lot of controllers and great sound banks and everything was really great. But when you are taking a real orchestra, it's totally different."
The hybrid approach can work as well: use an orchestral plugin for the large ensemble, but try to record one or two solo players to feature in the mix. That way you can add that human touch without needing to hire an entire orchestra. This approach works for more than symphonic scores too; any combination of voices can benefit from having one or more real instruments performed.
---
Advice For DIY Film Composers
I'll leave the final word to Pierre, who has this advice for anyone looking to compose for film:
"The main thing is you have to learn things. Not at a school necessarily, but by yourself. Read things, watch things. You have to listen to a lot of music. And you have to do it – just do it. Do things with music and listen to other people's advice – or not! There is a secret – you have to enjoy this."
Pierre Caillet's latest work is a feature documentary titled Les Damnés de la Commune, and you can listen to the score by following this link: https://idol.lnk.to/LesDamnesDeLaCommuneBO